This is an archived article and the information in the article may be outdated. Please look at the time stamp on the story to see when it was last updated.
Good Morning.
Destiny Vote


Take some time to get out and vote today. Unlike some other general elections, this really should only take you a couple of minutes. Whatever your stance is on The proposed one cent sales tax increase called Project Destiny, you should make your opinion known by voting. If this thing passes and I hear someone complain…the first question for them will be, did you vote? If you're against the tax and it goes the other way on you, then we all have a responsibility to watch like hawks to make sure this money is spent the way it's supposed to be spent. Polls close at 8pm.
Here's info on the election and polling places for Polk County.
Dallas County polling info
and Warren County.
Happy voting! TS
Bradshaw's the Chief
Major Judy Bradshaw is now Chief Judy Bradshaw. The Des Moines Police Department was fortunate to have some really qualified candidates for the chief of police job. I have to say from a media standpoint we're pretty happy to have Chief Bradshaw at the helm. She is the former Public information officer and I think she really understands the value of getting information to the media in a timely manor. I also think you might start to see some great stories coming out of the Des Moines Police Department. These are some really interesting men and women, and I hope we get to tell some of their stories.
Speedway Traffic.
The Iowa Speedway is hoping they don't have a repeat of the traffic getting into the IRL race a couple weeks ago. This weekend they've got another big race weekend so they've added gravel roads leading to some of the grass parking. It looks like they're still feeling their way through some of the issues they have. You'd expect that from a new facility. I'd only expect them to change it next time. Give em a chance. These are big events and it's hard to manage a crowd that big.
John Deere Classic
If you like golf and want to see a good show, go over to the Quad Cities this weekend for the John Deere Classic. Zach Johnson and John Daly are the big draws.
Finally…Behave Yourselves


We've lifted restricted on The Morning Buzz so anyone can comment on the post without registering. It's been suggested to us that we might get more comments if we do.
Now, we've tried this once and it didn't go all that well because of the anonymous comments about people that were just plain inappropriate. I'd love to see everyone who comments registered, but please feel free to post.
We'd like more discussion and more comments. We also reserve the right to pull a post any time we feel it doesn't belong.
Hint: If your workplace would consider it sexual harassment, if it would make our spouses want to punch your lights out, OR if it would make your grandma blush -save it! Otherwise, fire away! Our loyal blog-readers have been wonderfully tasteful and classy about the comments – I hope it stays that way! TS
I hope we hear from more of you and that you can sign your name to the notes you send along.
PWD
Political Showdown
Lots of politics to cover today! Sen. Hillary Clinton and Sen. Barack Obama are both speaking in DM at 10am – about a mile apart! I'm interested to see how these events go.
My husband tells me he heard Michelle Obama interviewed on NPR yesterday, discussing ho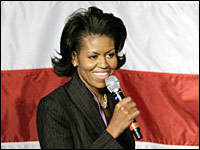 w if she becomes first lady, her priority will be to improve work-family balance issues in America. AMEN to that! I'd love to read up more on her ideas. I know all about the problems, but am unsure of the best solutions that would work for citizens and for the business community.
CHEAPER IPHONES
At a blog-reader's request, here's a link to a Forbes story for all the details. It would be something like the I Pod Nano, a stripped-sown version going for probably $300 instead of 5-600. Cool!

If you get a moment, open up my Gen-X Moms blog too today – I'm looking for ideas on recruiting great babysitters – and feedback on giving kids a healthy attitude about food and body image!
Have a great Tuesday!
Trish