This is an archived article and the information in the article may be outdated. Please look at the time stamp on the story to see when it was last updated.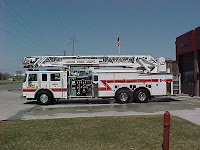 Good Morning!
I want to make it as clear as I can to my dear friends in the WHO TV Sports Department, I had NOTHING to do with the wake-up in Ames this morning.
If you missed it, the Firefighters from Ames Station ## brought over all of their equipment and turned on enough sirens to wake the dead at about 6:30 this morning. Sorry if you live near Jack Trice…. I'll try to get our web mistress Kelly to post the video for us.
As always Keith is a great sport about the entire thing….Andy may never speak to me again, and well…Hassle may have just rolled over and gone back to sleep.
As always the RVTV antics are great fun. If you haven't checked out the Sports page…give it a look. They're on to Marshalltown tomorrow. I make no promises about the actions of our morning news team this week.
Dead Heet
The polls out Monday show a dead heet in the Presidential election. Anyone who expected anything different after both conventions were over was living in some alternate universe. I won't reprint the email here, but we were accused of being too liberal this morning with our story about Barack Obama's comments and the new polling out this week. I'll never be able to convince anyone of this but I really don't know who I'm voting for in November. It's funny a comment like this would come the week of the Cy-Hawk Showdown. The Sports Department gets the same emails about their loyalties resting with either the Hawkeyes or Cyclones. Truth of the matter is, our guys aren't fans of either school, they just want to see a good game. I'd say that's a good assessment of my hopes for the next two months.
School Board
Speaking of close races, it's almost sure to be a close race for the three open seats on the Des

Moines School Board. We spoke with a former Board member about the responsibilities for this volunteer position and he said it well. A School Board Member goes into office thinking they'll have a great deal of influence over what goes on in the classroom and in reality, you have a very limited scope of influence on the District.
He also said this election and The Board itself of late, has become more about the personalities on the Board and less about the actual work of making sure kids get a better education. I hope whoever is election will try to call a little less attention to themselves and maker sure the focus stays clearly on the kids.
Have a good one
PWD