This is an archived article and the information in the article may be outdated. Please look at the time stamp on the story to see when it was last updated.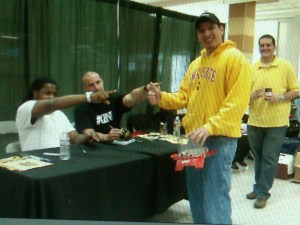 (Chris)
Adrian Clayborn and Tyler Sash signed autographs, at Merle Hay Mall, for hundreds of Hawkeye fans — and one ISU fan. Some dude in an ISU sweatshrit strolled up, after waiting 45 minutes, for an autograph. After some good-natured ribbing from the former Hawks, the Cyclone fan got his signatures. Clayborn told the IceBorg that the fan admitted that he was a Hawkeye at heart.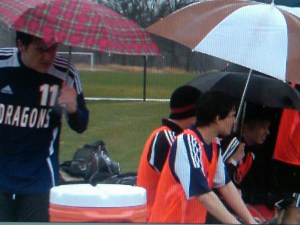 It's a good thing the I-Cubs started their season down in Texas. Unfortunately, the poor high school soccer players didn't have that option. There are few things worse than a cold, rainy, day.
The Red Sox fell to 0-6, and the Celtics got blown out by the Bulls. I feel reeeeeeeeeal bad for Boston fans.
Wednesday, I went to KC for a Royals-White Sox game. Kauffman Stadium is fantastic. It was my second trip there since they completely revamped the aging park. In my other trip, the Royals blew a 5-run 9th inning lead, with two outs. Wednesday, they blew a 3-run lead with two outs. To make matters worse, both times I was at the game with the biggest Royals fan I know — the only Royals fan I know.
Tickets were $12. Parking was $5. A beer was $9.
On Tuesday night I was up, shooting hoops with a friend, until 4:30am. Tonight, I'm headed out to play shuffleboard. Tomorrow, after work, I'm hosting a PS3 game-night at my pad (apartment). That's a little snap-shot of the life I lead. And some people are crazy enough to ask if my wife and I will be popping out a kid, soon. HAH!