This is an archived article and the information in the article may be outdated. Please look at the time stamp on the story to see when it was last updated.
(Zach)
It was Black Sunday in the college football world.  Ron Zook got the hook, and there was no surprise there.  Aside from the Rose Bowl year in 2007 he was at Illinois what he was at Florida-great recruiter, average in-game coach.  The Illini were the first team in FBS history to start 6-0 and finish 0-6.
I'm a little more surprised by Turner Gill.  Three years ago he was the hottest name in the game for what he'd done at Buffalo.  I remember watching his first game at KU, a 6-3 loss to North Dakota State, and it just didn't seem like a good fit.  Gill went 5-19 in two years, the exact same record as Gene Chizik at Iowa State.  I think Gill will pop up somewhere else and do well, probably at the non-BCS level again.
Other coaches out or rumored to be gone-Paul Wulff (Washington State), Rick Neuheisel (UCLA), Dennis Erickson (Arizona State), Larry Porter (Memphis), Neil Callaway (UAB).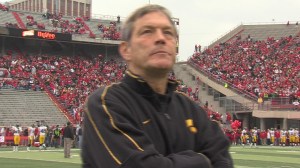 Not on that list to the disappointment of some Hawkeye fans-Kirk Ferentz.  I'll say this, I do think there needs to be a shakeup on the staff.  Things are growing stale on both sides and they need an infusion of new ideas.  What's most concerning is that some players(Vandenberg in particular) seem to be regressing as the season goes on.  And yes, I think Ferentz is overpaid for the results he's gotten the last two years.  But I saw some things on Friday that changed my mind about the situation at the top.
I know there's a portion of the fans who think Iowa is a coaching change away from becoming a consistent BCS team, if not occasional national title contender.  In truth, I think Iowa is closer to being a coaching change away from becoming a 4-6 win program.
All summer I was warned by people in the know that once I got a look at Nebraska's facilities I'd see just how far behind Iowa was.  I scoffed because the Huskers haven't been the Huskers since Tom Osborne left.  After seeing it firsthand Friday, I was dead wrong.  While Iowa is making strides, they still have a LONG way to catch up to NU.  Below is a photo of Nebraska's press box and suites.  They are building an IDENTICAL structure on the other side of the stadium which will raise capacity to between 90-100 thousand.  Get ready for a new arms race in the Big Ten like nothing we've ever seen.
But here's the thing-for all Nebraska's money and facilities, it only takes one terrible hire at head coach to screw it all up.  Enter Bill Callahan.  But Nebraska and other programs with similar facilities and resources (Michigan with RichRod or Ohio State) can afford the occasional swing and miss because chances are they won't fall too far down by the time they can get a good coach in.  In my lifetime, Iowa has only had two coaches-Hayden Fry and Ferentz, 32 years since Fry took over in the 1979 season.  Anyone remember Jerry Burns?  Ray Nagel?  Frank Lauterbur?  Bob Commings?  Those were your Hawkeye coaches from 1961-1978, roughly half the span of Fry-Ferentz.  Iowa never had a winning season in that stretch.
Yes, I realize times have changed and the program has more money than ever coming in now.  But the song remains the same to some extent.  In Ferentz you get a coach who not only wins usually at worst in the 6-8 game range per year, but a guy who made Iowa one of the Big Ten's top producers of NFL talent.  Don't take that for granted because the NFL pedigree is a huge selling point on the recruiting trail.
Whenever the time comes for a new head coach Iowa needs to hit another homerun as they did with Fry and Ferentz.  So if you believe, as I said earlier, that the Hawkeye football program is a coaching change away from bigger things, then answer me this-how many coaches are out there that you can bank on for winning at least 8-10 games every year, developing NFL caliber talent at the same pace (or better) than Ferentz, and do it with less to work with than several of his chief conference rivals?  I don't think there are that many.  In any case, be careful what you wish for Hawkeye fans.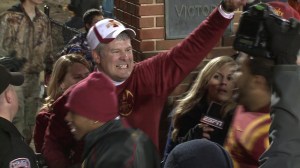 Of course it's tough to look at Ferentz when you see the job Paul Rhoads is doing in Ames.  He's the polar opposite in every way.  We often get the question asking how each guy would do if you put them at the other school.  I think it's an unfair question because each guy has to adapt to the situation to some extent.  The Big Ten doesn't have the caliber of offense or speed that the Big 12 has.  It's two different and contrasting styles of play.  Doesn't mean one is better than the other-remember that Nebraska nearly won the Big 12 twice before departing, yet they didn't dominate the Big Ten upon arrival.  Point is, each guy would adapt in some way to the place they're in and if they didn't they'd likely be shown the door.
Rhoads is clearly the perfect coach for Iowa State, whether it's his hometown roots or his understanding and grasp of the situation.  Assuming he stays a while in Ames, I'll be curious to see where things evolve.  Right now Rhoads is still playing with a lot of Chizik (and in some cases Dan McCarney) players.  Recruiting and player development is the lifeblood of college football.  We still haven't really gotten a gage on how things will go when everybody on that roster is one of Rhoads' recruits.  Considering the history and the current Big 12 configuration, as long as Rhoads won 6-7 games a year, spring the occasional upset, and took them to bowls, most Cyclone fans will never complain. 
Yet some callers and emailers, Hawkeye and Cyclone fans alike, are wondering if the OSU upset is a turning point in this program's history, a moment similar to Iowa's 1981 win over Nebraska.  While the Cyclones can pull the upset or two, OU showed that the Cyclones still lack the speed and firepower in places.  If ISU is ever to become more or, dare I say, challenge for a conference title/BCS Bowl, Rhoads will have to prove to be one of the best recruiters in the nation to make it happen.
Finally, Murph's mustache will be off by this time next week.  I know, you will miss it too.  But, you can buy one of these cool shirts from GroundZero Screen Printing!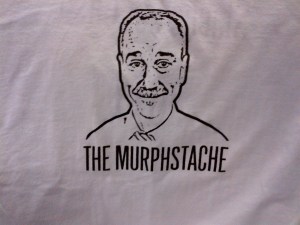 Okay I'm a lame pitch man, but the money from every shirt goes to the battle against cancer.  And much as he hated the stache, Murph was happy to wear that caterpiller for a great cause.  Here's a link to their website ( http://groundzeroscreenprinting.bigcartel.com/ ) and Facebook page ( http://www.facebook.com/groundzeroscreenprinting ).