This is an archived article and the information in the article may be outdated. Please look at the time stamp on the story to see when it was last updated.
Good Morning!
Trish and Jeriann are taking some much deserved time this morning so we get a visit from Megan and Elizabeth. Always a good time.
In the news
Overnight:
We had some overnight fires on the east side of Des Moines and it looks like some of them might have been set intentionally. One was outside a tire warehouse on E21st and Capitol, but there were a couple of sheds in the area and firefighters told out photojournalist on scene that the burn marks made it looks like someone had doused the shed with lighter fluid before it went up. We'll update the investigation later.
From Iraq:
More fighting, this time aimed at British Soldiers south of Bagdhad. None of their soldiers were hurt.
We found out a native Iowans was killed over the weekend in Iraq. A roadside bomb killed Michael Pittman. He grew up in the Quad Cities and went to High School in Rock Island Illinois.
U of I
Still no President for the University of Iowa. The Regents met yesterday and took the recommendations of the search committee, but could not come to a decision.
Hy-Vee
The Hy-Vee Triathlon looked looked like it was a complete success. Did anyone go down there this weekend? I would be interested to hear about it. SO far the reviews are that it was well run, and that a lot of people showed up for the armature race.
Whirlwind Weekend
I say one more thank you in the title because I'm happy to report we won the fundraising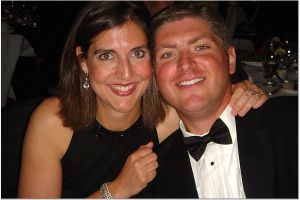 campaign Friday night! We were able to raise more than $15,000 for the Leukemia Lymphoma Society in the last nine weeks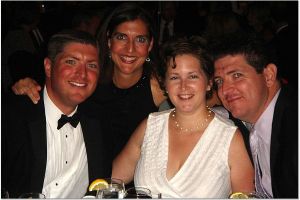 thanks, in large part, to many of your generous donations. Your thank you's will be coming individually if you made a contribution, but please know that I am overwhelmed at the support our viewers and bloggers gave. As a group the candidates running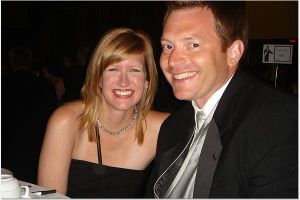 this year were able to raise a record $360,000 for research, treatment and education in the fight to cure blood related cancers.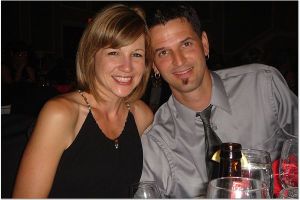 We had a great time celebrating Friday night. I was happy to have Trisha and her Husband Ian there with us. We hosted some of our friends and my brother Matt and His wife Amy were able to join us as well. I'm going top post a
picture or two from Friday when I can get home and get them off my camera…so check back later!
By Saturday at 10am we were off to Chicago to say good-bye to my parents house and celebrate Mom getting her PhD. It was great to see all of the people who'd come into town. My Dad said it best. The house is only a place, the home is made by the people who are in it. All of the people who were at that party and a long list of others who couldn't come made that house a home for them (and for us) over the last 33 years. We'll miss it. I'll post some pics here as well later in the day.
What about Bob?
We refer to our blog lurkers every once in a while in this daily post, but I was surprised to learn that My Uncle Bob in Montana is one of them! Apparently Bob has posted here and hasn't identified himself…as we're fond of saying in my family, "C'mon Bob!".
Bob confused the heck out of Sally when she first met him…mostly because his family always called him Terry (he's Robert Terrance I think). So we always called him Uncle T. When we started talking about Bob…Sally thought we were referring to an entirely different person. When you come from a family of about 15 people total…and you have to keep 15 aunts and uncles straight…it's hard enough without having to learn nicknames.
So if Uncle T is out there…Welcome to the Blog Bob!
Hope everyone had a good weekend…we're in for another good one next weekend IRL racing at the Iowa Speedway!
PWD