This is an archived article and the information in the article may be outdated. Please look at the time stamp on the story to see when it was last updated.
Don't you love how this blog turns into a discussion of babies and food when I take over? Maybe you don't. If you miss Patrick's deep debates about constitutional law and discussions of government control of the banking industry, then I apologize. We're going to cover the softer side of life today on the Morning Buzz and I think you'll like it because I have lots of good pictures to share! And good recipes, too!
Anyway, it's just me today. After working 12 days in a row, they let Dan have the morning off and Patrick is still spending time at home with his new babies. Actually, we are really short staffed today here on Today in Iowa. A lot of people are on vacation this week and we've got some kind of bug going around so we have a lot of people out sick, including Megan Reuther. So it was just me and our producer Ericka getting the show ready this morning. If there was something wrong, you can blame Ericka! Just kidding. You can probably blame me. Every once in a while, this shift kicks me in the *%$. And this morning I am runnin' on empty, as the saying goes, so I had a few blond moments when I was writing and delivering the news.
I talked to Patrick yesterday and got an update on Will and JT. Sounds like things are going well. Will has been home for a few days but doctors wanted to keep JT until today. Sally and Patrick will likely get to bring him home this morning if all goes as planned. Patrick and Sally are taking turns with feedings so although they aren't getting much sleep, they are getting some. I know they are excite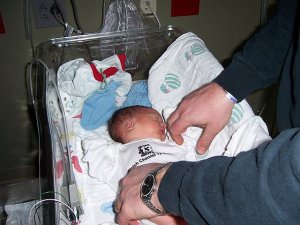 d to have the whole family together at home finally. Pat is supposed to return on Monday. I'm sure he'll have lots to write on the blog then. I love some of the pictures he sent. One is of Will in a Channel 13 onesie. Even though the boys are a healthy 5 1/2 pounds, don't they look so little.. especially next to Patrick who is about 6'3". I didn't include pictures of Sally only because if she is anything like me I didn't want people seeing me right during those first few weeks. Although I will say she looks amazing… you can hardly tell she had twins! Yes, she is one of THOSE people who looks wonderful just days after giving birth.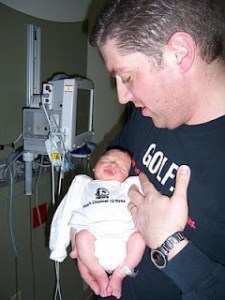 I also couldn't resist putting a picture of my baby on the blog today. Yesterday I read to students at Hartford Elementary School and took him along. It was part of National Reading Month. Surprisingly, Evan sat on my lap and didn't move or say a word. That's definitely not his character. He is your typical spirited 20 month old boy who NEVER quits moving. He also happens to be obsessed with trucks and buses so yesterday was quite a treat when the secretary at Hartford Elementary let us go inside one of the buses. It's the simple things in life that bring true joy to children. I love it!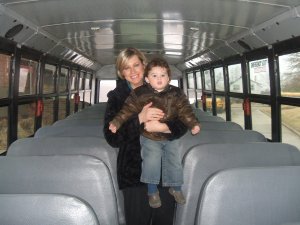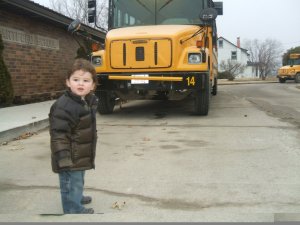 Ok… here's the recipe I promised yesterday. It's kind of cross between a soup and stew. Rachael Ray would call it a stoup, but that word annoys me. Anyway, it's very filling and I think you'll like it. I should mention, this recipe was given to me by my friend Desiree. She's a personal trainer and eats very healthy. But she also loves good food. And this is definitely a combination of good and good for you.
1 1/2 pounds chicken or turkey breast (You can use the packaged frozen kind)
1 jar Pace Salsa Verde
1 small can diced tomatoes (14 ounces)
1 can black beans (drained)
1 can corn (drained) or half a small package of frozen corn
1 T. cumin
3 T. cream cheese
Put everything in crockpot and cook for 7-10 hours on low or 5-7 hours on high. Shred chicken with a fork and add cream cheese until melted. Eat with tortilla chips and top with cheese and sour cream.
You can also cut up flour tortilla shells and bake them at 350 for 5 or 10 minutes as a topper. My husband Eric loves it!
I should also mention that Jeriann is doing very well. I think she has the best baby ever born. Luke is the kind of baby every new mother wishes she had because apparently he sleeps all the time. Jeriann said she nearly has to wake him in the middle of the night to eat. He slept for 5 hours straight the other night and always goes right back to sleep when he's done. She joked that she is getting more sleep now than she did when she was working. I am hoping to see her sometime soon. I meant to visit last weekend but something came up. Hopefully I will have some pictures soon.
Hope you all have a great weekend. We have no big plans. Just dinner tomorrow night with some friends we haven't seen in a while. And, tonight we're staying in and renting movies. See you on Monday!
Brooke