This is an archived article and the information in the article may be outdated. Please look at the time stamp on the story to see when it was last updated.
Good morning everyone!
It's Trisha – Pat's running off on assignment.
I'm doing the news at noon so I'll put a couple of thoughts together as we get a break.,
The DM Arts festival kicks off tonight at 4pm – any of you going this weekend? Be sure to stop by and say hi to us in the Ch 13 tent (we'll be handing out balloons)
I'll be there Sunday afternoon so all of you who are agonizing over a purchase, stop by and debate it with us before you go home…
I'm impressed to hear the Joffrey Ballet is doing a free performance tonight. Cool! Tons of bands will be playing, 150 artists will be showcased, and there are all kinds of crafts for kids to do, not to mention the food vendors. (I'm planning to take the kids to see their very first Nadas concert Saturday night… decked out in their band t-shirts to cheer on Daddy! )
Photos are courtesy of Cahill!
Jeriann and Jon were live at the Western Gateway Park all morning. Jeriann wore SHORTS even though she knew it would be a little on the chilly side.
Here's a link to the Arts Festival Website for schedules, maps, and info
. It's FREE – and the forecast is awesome.
WILD CHASE
Yesterday a wild situation unfolded at the Arts Festival site, involving a crash, a police chase, a shooting, and a car-jacking. I'll let Pat expand if he has time since he was anchoring the noon newscast yesterday when all this broke.
Maybe it's the mother in me that always makes me wonder when I hear stories like this – what went wrong in that person's life that led them to this moment? In this case police say drugs were involved. It makes me sad to see someone's life apparently slipped so far out of control that they'd do something this extreme.
LONDON BOMBING STOPPED
A potential car-bombing in London was prevented this morning -bomb was defused and the area cordoned off. Hard to imagine how things would have gone if authorities did not take care of this situation in advance. This was all developing overnight and we're sure to know many more details by tonight's newscasts.
by noon today police in London found two more suspicious cars that might be filled with the same thing. Fleet street was closed for a while this morning…now it's re-opened.
IPHONE DEBUT

A few tech-lovers lined up overnight at Jordan Creek to wait for the I Phone – which goes on sale at 6 tonight.
These look pretty cool, but way out of my price range ($499 for the cheapest model, not including the cost of getting the AT&T service)
Apple IPhone info here.
PROM PICTURES, ANYONE?
This morning after showing video of a kid who made prom outfits out of duct tape, Pat and I got talking about our prom attire. Which led me to pose this challenge to you blog-readers – who's brave enough to share their prom photos with the world???
Please email them to me at trisha.shepherd@who13.com, and I will post them here throughout the day! Once I get home I'll try to get one of my old prom pics loaded in. Funny stuff.
(hint – double check the spelling of SHEPHERD or the email will get lost in cyberspace. I can't tell you how often this happens. There's an "H" in the middle – shep herd as in "herder of sheep," not shepard, shepperd, etc.)
I'll try to scan in the picture of Sally and I at Senior Prom…yes we went to the senior prom together. I also have a request from our Elvis freak to post these: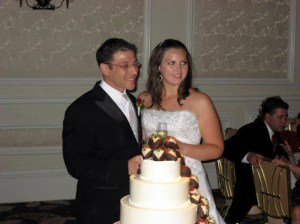 They're pictures from my good friend Tim Payne. His sister Jenny married her longtime boyfriend in Las Vegas. They were married at Bellagio along with an Elvis. Trish went nuts when she saw these TP. The last pic is Tim's adorable daughter Jilly. One
word or Tim…Trouble…she's gonna be trouble TP.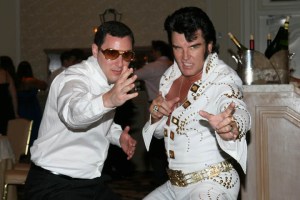 NEWS FROM THE SHEPHERD KIDS
"Camp Grandma" is officially coming to an end today. My little ones are coming home – can't wait to see these faces again in person!
My parents sent me these photos yesterday – Calvin is showing off the new elephant hat he got at the zoo.
And Clara – my dad wrote, "Here's Clara… well… doing what Clara does." Have I mentioned before how much she and Jeriann have in common? Lately I've changed Clara's nickname from "Piglet" to "Porkchop." I have a feeling I should pick something nicer by the time she's old enough to get sensitive to these issues. I don't want to create a complex – it's just clear this child loves to eat! I guess she needs all that energy to go-go-go as most toddlers do.
Send me your prom photos – and have a wonderful weekend!