This is an archived article and the information in the article may be outdated. Please look at the time stamp on the story to see when it was last updated.
Good Morning…It's been quite a weekend so I'll get right to the day's events and a recap of the weekend.
Rain
Can it rain anymore around here? We drove across the state this weekend and Sally's comment was, You know it's bad when you have more water fowl on your farm field than actual stalks of corn."
Helmets
Look I don't mind it if you don't want to wear a helmet when you ride your motorcycle. No problem. I just think it's a good idea. A bad motorcycle accident this weekend sparked the question in our newsroom again. Why doesn't Iowa have a helmet law? I would tend to agree with the ABATE people here…this story comes up every year when we have a bad motorcycle accident. I disagree with the guy's assessment that motorcycle drivers would be safer if car and truck drivers were more aware of sharing the road. They'd be safer with helmets on. Don't wear one if you don't want to…but don't tell me it's my fault that a motorcycle rider didn't choose to wear all of the protection they could.
-On a side note we were driving into the Chicagoland area this weekend and got behind three guys on those crotch rocket bikes…they all had helmets on, but the idiot up front starts riding on his back wheel. We're doing like 70 mph now mind you and it's the heart of rush hour…but he's decided this is the time to test out his trick riding skills.
-An aside to that aside is that I think Illinois drivers look at an Iowa license plate and think it's a sign indicating you MUST pass. I was doing 85 mph in a 55 mph zone and I was getting passed like I wasn't moving. People would pass me then look over like, "Why t5he heck are you going so slow?". I was driving 30 miles over the speed limit! I mean I'm from Iowa…I must be driving slower than you big city drivers…
Events
What a weekend we have coming up!
I'd love to see some of the US Track and Field Championships but I will be entertaining guests. Sally's Dad is headed our way and My Aunt Marion and Uncle Pete will be driving through on their way to Chicago. I hope you all get a chance to come down to the Arts Festival to See some of us at the tent. Say hello and tell us you read the blog…it's helps me to remember that someone is actually looking at this thing.
Random
-Brooke, Jeriann and my Wife have all been telling me for weeks I should do it…I finally broke down and started eating Greek Yogurt. I feel healthier already.
-We sold our house! Finally! Now we just have to find a place to live. A bust summer just got a lot busier.
Father's Day
I wanted to post a few pics of the weekend. We went to Chicago this weekend to meet our friends Shaun and Erin (they live in Cincinnati) and their some Evan. He's the one I'm Godfather to. Anyway, we decided to meet in the middle. Shaun and I played a great round of golf with my Dad Saturday (I was even par through nine holes…then the wheels fell off). We got all of the boys over to church so my folks could show off a little…Will loved the gym they use for Mass. Sunday we all got together for a Father's Day BBQ. Here are a few shots from the afternoon.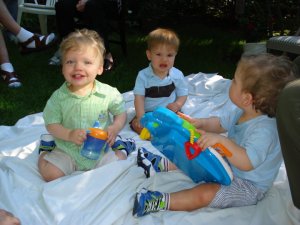 That's Will, Evan in the middle and JT on the right.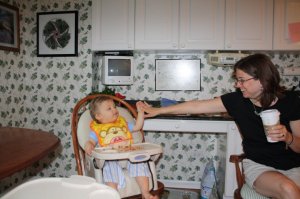 These are my brother and sister's shots…Aunti Katie was a big help feeding the boys…she gets a high five.
My brother Joe snapped this one of Will and I.
I will upload a few of mine later today.
Hope all of you Dads out there had a great Father's Day!
PWD