This is an archived article and the information in the article may be outdated. Please look at the time stamp on the story to see when it was last updated.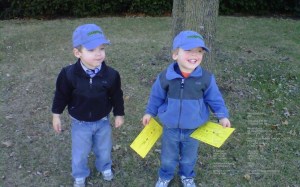 Good Morning…
You'll excuse me if I am in a reflective mood today. Tomorrow my boys turn three. How did that happen?
While this year seems to be dragging a bit with the onset of the terrible two's(x2); I also feel like the whole thing has been a flash.
The boys seem to be excited for this thing we call their birthday. I am not sure they really get it yet but they seem to understand it's a party for them, they get presents and they get cake. Sally's parents are here to celebrate as is my sister. Next weekend we host my family who will be here between our boy's birthday and our nephew Oscar's Birthday. Lots to Celebrate and a very busy time.
To the News
Allegations
The Pleasant Hill City Council sure has a mess to sort out. A Private Investigator showed up at this week's City Council Meeting with a 30 page "report" detailing allegations against the Police Chief in P-Hill. The Man claims the Chief came to him two years ago wanting to tape the private conversations of some of the City Council Members. The Chief denies the allegations. Here's one of the many complications: This Private Investigator would appear to have a conflict. His son is a Police officer in P-Hill who is also making allegations against the Chief.
We should certainly pay attention to the allegations, but we should, and really tried to emphasize, that they are just allegations. We should also start asking questions about the accuser.
We have people call out newsroom all the time making wild accusations about elected officials, school administrators etc. I always ask one question when I am done listening to them. I say, "OK tell me what they're going to say about you when I ask them about your accusations?" I tell the person I want to know everything I am going to hear.
If they give a good accounting of their own bias, I am more likely to believe them. It's also often revealing to hear how they are involved, and may have contributed to a bad situation.
There are always two sides to the story.
It floors me that people call here thinking we are going to take their call and put the information right on TV.
Celebrations
I was thinking as I was watching the highlights of winners and the losers at the State Wrestling Tournament that I like both sides of the story. We learn as much about sport and the spirit of these young Men (and women) in their losing as we do their winning. I think that's what makes a sport most of us don't follow closely so compelling this time of year.
Midnight Rambler
Well it was actually closer to Three this morning that JT was at it again.
Half awake and half asleep, I think he's just had another disturbing dream. At least, the details I could make out were disturbing…
The best I could stitch together from his mumbled description..The Oranges were in trouble in the TV Room…I think they couldn't get out for some reason. I don't know why the Oranges were in the TV Room in the first place…but I don't ask. What is it with this kid and the Fruit?
I just covered him up and told him everybody was OK.
I hope you have a great weekend!
PWD