This is an archived article and the information in the article may be outdated. Please look at the time stamp on the story to see when it was last updated.
Good Morning!
Hump Day and though the temperature is in the 50's it's the snow I'm going to start with this morning. At about 5:10 this morning we talked about the snow budget for Nevada Schools. It was set at about $5000, they spent close to $60,000.
Now… I commented that I thought the $5000 might have been a low estimate and that I'd spent $5000 on gas for my own driveway.
Here's the comment that followed shortly after:
just this morning [wednesday], commenting on a blurb that nevada schools spent $60K on snow removal after budgeting only $5K, patrick said he thought he spent $5K on gas for his snow blower this year.i think it is absolutely disgusting even to joke about such an admission of wastefulness.with all the news and concerns about obesity concerns and energy dependence, i think it is time for folks to step up and start setting proper examples and remove your snow like i do–with a shovel and a strong back. or pay your kids to do so.amount i budgeted for snow removal this year: $0.amount i spent: several delightful, healthful hours in contact with nature.amount i received: several hours of great exercise, and untold thousands of liters of cold, crisp air into and out of my lungs.
oh, and congratulations, jeriann.
Not sure where to start with this one so I'll first say, I was, of course, kidding.
Then I started thinking about it and…here's the thing; There's no way I would be able to shovel my driveway and walkway all winter. Ask my neighbors. I have enough trouble doing it with the snowblower!
I mean, you could run out a three year car lease trying to go back and forth on my sidewalk and driveway all winter. Lewis and Clark didn't go this far
As far as exercise is concerned, don't underestimate what it takes to push one of these behemoth things around in the snow. I'm not using one of those sissy self-propelled things…this is manual labor my friend. Ask my wife. It's 92 below zero wind chill and I walk back in and looking like I just ran the Boston Marathon.
I understand the point…and I know a lot of people use their three stage, 1400 megawatt, jet powered snow blowers to get an inch of snow off their ten foot sidewalk in front of the house…I'm not one of those people.
$5000 still sounds low to me…even if the kids from down the street are clearing the snow from all of the Nevada School District Properties..
To the actual News
5th Anniversary
The war is five years old today. The president is expected to make a speech at the Pentagon calling for continued support of the US mission in Iraq. There will also be protests of the war all over the country including here in Des Moines.
Smoking Ban
Pretty soon we're going to have more versions of this that we had sequels to the Rockey Movies. The House and Senate try again with a version passed by the house to exempt anyone who's got a liquor license.
Fed Cut
There's a lot of debate over the wisdom of such a big cut in interest rates. The bottom line on the worries is that things are going to start costing you more. The people who like the cut say it will get money moving in the economy. I think we're going to find out here in very short order.
It might also be a great time to refinance…
Obama Speech
Did any of you see the entire thing? Did it end questions for any Democrats about the Senators ties to Rev Wright?
11lbs 10oz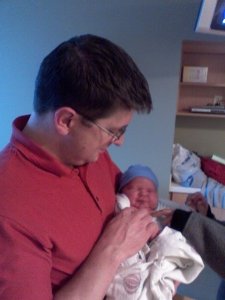 That's what my brother's bouncing baby boy weighed in at yesterday when he came into the world. Oscar William Dix was born at Mercy Medical Center in Des Moines around eight yesterday.
Usually when you create this big of a group you call it pass protection…The smallest of his sons weighed nine plus pounds at birth…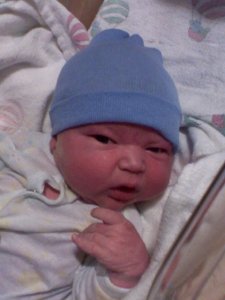 Mom and baby are doing well, and we're happy to have Oscar around.
Here are a couple of pictures in case you missed the AM show or in case you're related to me and simply live in another state or time zone.
Have a good day,
PWD