This is an archived article and the information in the article may be outdated. Please look at the time stamp on the story to see when it was last updated.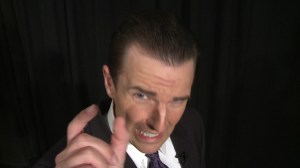 Don't look now, but we're just one year away from 11-11-11, and 2 years, 1 month, and 1 day away from 12-12-12. Thank GOODNESS there won't be a 13-13-13.
It would be nice if we could enjoy Thursday night NFL games — the problem is, the majority of people can't see them because they're on the NFL Network. Instead, I'm stuck watching the Little East game of the week featuring Pitt and UConn. It amazes me that this conference is still considered a "power conference" by the BCS. There's no way any of the teams in the Big East deserve to play in a BCS game. That's part of the problem with NCAA football.
They're calling for cold weather and rain, on Saturday, in Chicago. That may bode well for the Hawks against Northwestern's heavy passing attack, but it sure as heck doesn't bode well for the fans (and me). It's hard to imagine worse weather than the torrential downpour at the Iowa-Ball State game — but this could be worse.
Think of all the coaches that have been fired (in any sport) in the middle of the season. Then think of how many times those teams went on to win the very next game. It seems to happen all the time. On Sunday, I was picking the Cyclones to beat the Buffs, but after Dan Hawkins' firing, I'm going with Colorado. I'm worried ISU may run into a buzz saw, in Boulder. Hopefully I'm dead wrong.
Gene Chizik said, earlier this week, that Cam Newton would start vs. Georgia, this Saturday, PERIOD. Well, Rivals.com begs to differ http://rivals.yahoo.com/ncaa/football/news;_ylt=AniF1d1MiE7Yrix0DvPDHQwcvrYF?slug=cr-newtonnext11110
What ever the NCAA decides, I hope they do it soon. It wouldn't be fair to the Heisman voters, or the teams competing against Auburn, if it takes months for the NCAA to rule Newton ineligible. It also wouldn't be fair, to Newton, if this cloud of controversy engulfs his entire season, and costs him the Heisman, a championship, and possibly more, if he's innocent.
Chris