This is an archived article and the information in the article may be outdated. Please look at the time stamp on the story to see when it was last updated.
Hello gang!

I am so sorry for my slacking – time has just gotten away from me during the past week or so and now I'm playing catch up.
I'm going to work my way from most recent to most belated in this post. I have some pictures to share, which I always think makes things more interesting.
CAST YOUR KERNEL!!!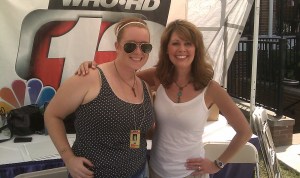 Alisa Link and I worked the Channel 13 booth together for part of Monday afternoon. It was a gorgeous day and it was fun visiting with voters and viewers. I wish we had a camera rolling non-stop there. We could stream it on our website and I guarantee you it would be a huge hit. You just can't make up the stuff that comes out of some people's mouths. Priceless.
FRYING FRENZY!

We all know the Iowa State Fair offers a bevy of fried foods but this year I was invited to be part of a brand new fried food contest. It was called the "Frying Frenzy" and it was sponsored by Pioneer because its developed a new high oleic soybean oil called "Plenish". All of the chefs in the contest had to create appetizers and desserts using the oil. Oh my, was it a fun contest to judge!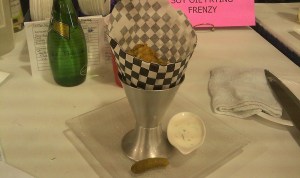 These are fried pickles make by Matthew Brinkman – Executive Chef at Deerfield Senior Living Community. Yum!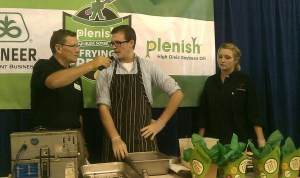 Chef Andrew Newberg won the People's Choice Award for his fried nachos and fried Girl Scout cookies – to die for!!!

Andrew works for Taste! To Go Catering in Des Moines.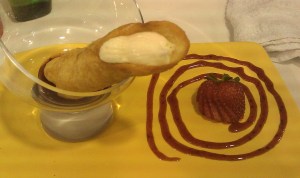 Ric Kerr made us cannoli – one of my favorite desserts. Ric is Owner/Executive Chef of Tasteful Dinners in Ankeny.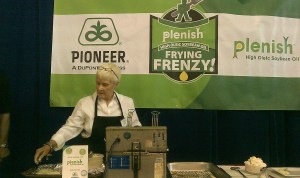 Bette Dryer had us all in stitches as she whipped up fried green tomatoes and fresh peaches & cream flip. She owns Bette Dryer Catering in Des Moines.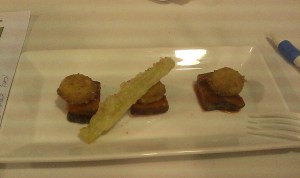 These are the Buffalo Pork Bellies with fried ranch dressing and celery fries made by Tom McKern – Executive Chef at Zombie Burger in the East Village. Delish!!!
First place for both appetizer and dessert went to Chef Tag Grandgeorge – his food was AMAZING! I was so busy eating the fried pork wontons and fried fromage blanc that I didn't take pictures of either. Tag owns Le Jardin Catering.
BEST BAGGERS

A first for me this year was competing in the celebrity best bagger contest. I had no idea how serious this whole event was. Just look at the expressions on the faces of the guys in this round…
Jacob Laursen won the real best bagger contest – he works at Fareway in Cresco. Speaking of Fareway – the store gives $250 to the winner of the celebrity contest to donate to the charity of their choice. I sent mine to Children's Cancer Connection.
My son David turned 21 on the sixth of this month – wowza. Michael and I went to Omaha to watch David's band play on that Friday night. Of course I'm biased, but I think he is probably the best drummer in the Midwest. :) We had a fun night and the next day did some eating and shopping in the Old Market – always fun.
I can hardly believe it after all the fried food I ate last night, but my stomach is growling … dinner calls, friends.
Have a fabulous week – enjoy the fair!!!

EEK

Erin.Kiernan@who13.com