This is an archived article and the information in the article may be outdated. Please look at the time stamp on the story to see when it was last updated.
All three of the women who call themselves Gabriel McFarland's mom are speaking out.
The four-month-old boy died Tuesday after his mother found him alone in her apartment.
Watch the birth mothers interview
Heidi and Rachel McFarland envisioned joy, not anguish when they decided to adopt.
The opportunity fell into their laps last fall and they were thrilled.
Adopting isn`t easy. Your life is put under a microscope. Adopting also isn`t cheap. Couples spend tens of thousands of dollars in the process.
The McFarlands didn`t care especially when they watched their son, Gabriel King, enter the world on December 28th.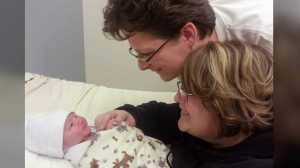 "I just couldn`t believe how much emotion came over us just watching him come out. We both lost it," Rachel says. "It was love at first sight, I mean before we even saw him we loved him," Heidi added.
Heidi and Rachel say they extended that love to Gabriel's birth mother.
"We worried. Is she ok? We wanted her to have counseling. That`s a huge sacrifice to go through that and give up a child," Heidi said.
The adoption was open, Markeya visited Gabriel at the McFarland's home but things were often strained and she stopped contacting them in mid-February.
In early March, the McFarlands' attorney called stating Markeya wanted the baby back.
"I just started sweating, just panic and crying," Rachel says.
"Watching him leave was (tears)… Knowing the environment this baby would be living in," Heidi adds.
But there was little they could do. The birth parents` rights were never terminated. The first step in any adoption.
"Being the first time and naive, you trust your lawyers and the adoption agency. I`m paying them a lot of money. I trust they`re taking steps to protect this baby."
Heidi and Rachel say they worried about Gabriel constantly, wondering where he was, if he was healthy and happy. The wondering stopped this week.
"I hit the floor, I was hysterical because we knew, we knew this is what we wanted to protect him from," Heidi says.
There was no one to protect Gabriel Tuesday night. Police say he died alone.
A baby two families wanted and both will now live without.
"We had big plans for him. That`s why we gave him such a strong name. We had high hopes for him, we just had a feeling he was going to be a strong presence in everybody`s life and he was, in his short life he was a pretty amazing baby."
The McFarlands place blame primarily on the system and attorneys involved in this case who they say failed to fill out the proper paper work and make sure it was signed.
They also say Markeya Atkins has singlehandedly destroyed their lives.