This is an archived article and the information in the article may be outdated. Please look at the time stamp on the story to see when it was last updated.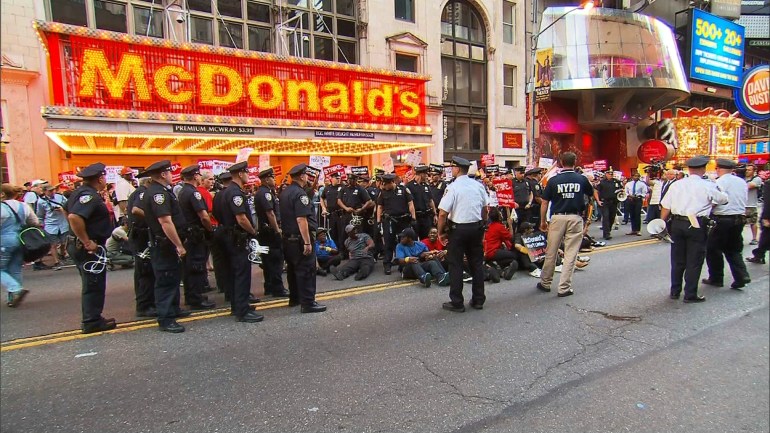 NEW YORK — Fast-food workers have made good on a promise of civil disobedience in protests aimed at boosting pay to $15 an hour and joining a union without retaliation.
There have been up to 30 arrests so far in Detroit and 19 in New York., according to police in both cities. Protesters were charged with disorderly conduct for blocking traffic.
"We will be ready for anything," said Public Information Officer Adam Madera of the Detroit Police Department, when asked if he expected more arrests throughout the day.
Organizers say that fast-food workers at McDonald's, Burger King, Wendy's and KFC, which is owned by Yum! Brands, are walking off the job in dozens of cities.
The actions are the latest in a two-year effort by fast-food workers to get employers to pay a minimum wage of $15 an hour and allow them to form unions.
Currently, the median pay for fast-food workers is just over $9 an hour, or about $18,500 a year. That's roughly $4,500 lower than the Census Bureau's poverty threshold level of $23,000 for a family of four.
Thursday's protests come more than a month after the National Labor Relations Board's general counsel ruled that McDonald's is a joint employer that exerts substantial power over working conditions at its franchisees. The ruling, if upheld, means McDonald's could be held liable for labor violations at its more than 12,000 franchisee-owned restaurants.
McDonald's has contended that franchisees operate as independent businesses and that, therefore, it's not liable.
In March, McDonald's workers filed class-action lawsuits in New York, California and Michigan over wage theft violations. The suits allege that McDonald's has forced employees to work off the clock, not paid them overtime and struck hours off their time cards.
Union organizers say the movement has elevated the debate about inequality in the United States and helped raise the minimum wage in some states, including Connecticut and New Jersey.