This is an archived article and the information in the article may be outdated. Please look at the time stamp on the story to see when it was last updated.
AMES, Iowa — An arrest has been made in the hit-and-run death of an Iowa State University student.
The Ames Police Department says 23-year-old Benjamin Clague of Gilbert has been charged in the death of 18-year-old Emmalee Jacobs of Urbana. Police say Clague was driving a CyRide bus when he struck Jacobs in the cross walk of Ash Avenue back in December.
Clague is charged with leaving the scene of an accident resulting in a death and failure to obey a traffic control device.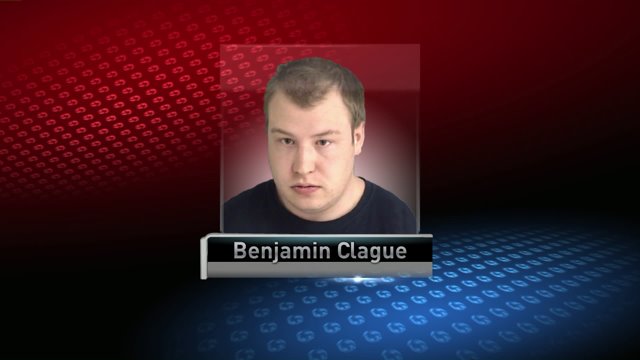 Jacobs was found seriously injured on Dec. 14 in the road at Lincoln Way and Ash Avenue. She died from her injuries at Mary Greeley Medical Center.
Ames Police Cmdr. Jason Tuttle said they obtained video of a camera on the CyRide bus that hit Jacobs. Tuttle said that while the hit-and-run was not caught on video, authorities say the video's audio captures the moment the student was hit.
Clague allegedly admitted the incident to a friend, Tuttle said, but the most incriminating evidence is what Clague reportedly did immediately after the crash.
"At his very next stop, he got out of the bus and did a visual inspection of the bus. Got out and walked around the bus in the rain. Our understanding is that he doesn't normally do that," Tuttle said. "So we put all these things together. With the follow-up interviews and some of the forensic evidence that we've taken, we have no doubt that he struck her that morning and at some point. He knew what he did."
Iowa State University President Steven Leath thanked officers for their work on this case and released a statement Wednesday.
"Our thoughts remain with the family and friends of Emmalee Jacobs during this very difficult time," Leath said in the statement. "The university is working in cooperation with the city to evaluate potential safety improvements and promote both vehicle and pedestrian safety around campus and the community."
The Story County Clerk's Office says Clague has been released from the Story County Jail on a $10,300 bond. His first court appearance is set for Jan. 27.
Clague faces up to five years in prison if convicted.