This is an archived article and the information in the article may be outdated. Please look at the time stamp on the story to see when it was last updated.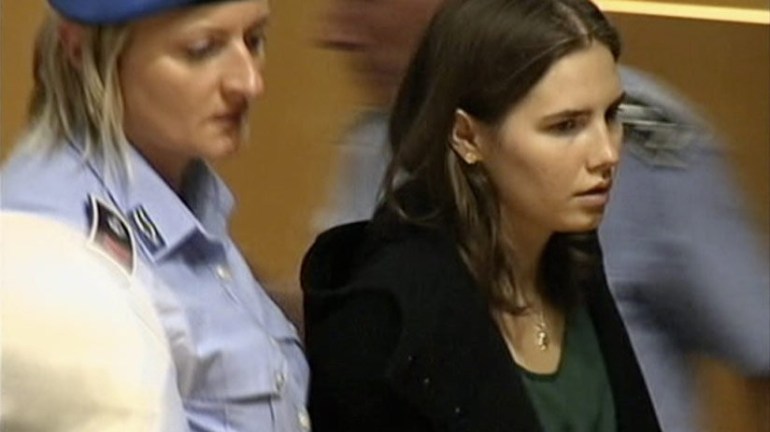 ROME — An eight-year legal drama that gripped the United States, Britain and Italy has ended.
Late Friday night, Amanda Knox of Seattle learned Italy's Supreme Court had overturned her murder conviction.
She was prosecuted after the semi-naked body of 21-year-old British student Meredith Kercher, her throat slashed, was found in November 2007 in the apartment the two women shared. Raffaele Sollecito, Knox's Italian boyfriend, was convicted as well. He was cleared along with Knox on Friday night.
Knox had been facing 28½ years in prison. Now she can seek a normal life.
She was in the United States when the decision was announced in Rome and issued a statement, saying she was "relieved and grateful."
"The knowledge of my innocence has given me strength in the darkest times of this ordeal," the statement said. "And throughout this ordeal, I have received invaluable support from family, friends and strangers. To them, I say: Thank you from the bottom of my heart. Your kindness has sustained me. I only wish that I could thank each and every one of you in person."
Knox's family said in their own statement: "We want to express our profound gratitude to all of those who have supported Amanda and our family. Countless people — from world-renowned DNA experts to former FBI agents to everyday citizens committed to justice — have spoken about her innocence. We are thrilled with and grateful for today's decision from the Supreme Court of Italy. And we are grateful beyond measure for all that so many of you have done for her."
Prosecutors in the university town of Perugia said Knox directed Sollecito and another man infatuated with her, Rudy Guede, to hold Kercher down as Knox played with a knife before slashing Kercher's throat.
Both Sollecito and Knox were convicted in 2009 and sentenced to lengthy jail terms. Guede, a drifter originally from the Ivory Coast, was tried separately and is serving a 16-year sentence.
Sollecito and Knox spent about four years in Italian prisons. After the evidence was re-examined, an appeals court quashed the two students' convictions in October 2011, citing a lack of evidence against them, and both were set free.
Two years later, they were retried and their acquittals overturned. Knox was sentenced in absentia to 28½ years. Her ex-boyfriend got 25 years.
Then, on Friday, the Italian High Court brought the legal saga to an end.
If the decision had gone the other way, Sollecito, now 31, could have been sent to prison immediately. He has been living in Italy and was in court on Friday.
"This is truly a very important day, not just, I believe, for Raffaele Sollecito, but I believe also for all of those who believe strongly in justice," Sollecito's attorney, Giulia Bongiorno, told reporters in Rome.
Knox's Italian lawyer, Dalla Vedova, also expressed relief.
"We finally got the right decision," he said. "Right now she has to stay with her family and recover from this very bad experience."