This is an archived article and the information in the article may be outdated. Please look at the time stamp on the story to see when it was last updated.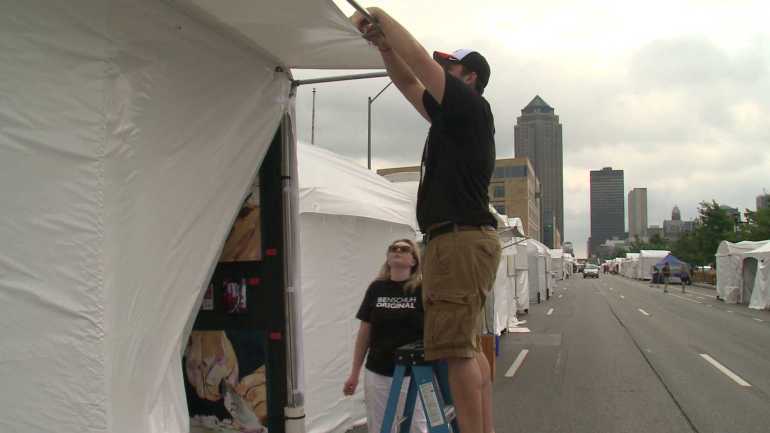 DES MOINES, Iowa – Local artists Ben Schuh and Chris Vance are passionate about the work they're showcasing this weekend at the Des Moines Arts Festival.
"As an artist, I like to focus on things that challenge me and imagery from Des Moines is something I get to see personally," said Schuh.
"I'm influenced by skateboard art and graffiti," Vance told Channel 13 News.
To make a living, both have to put price tags on original pieces of work they have transformed from ideas into realities.
"I have a number of pieces that are below $200 because to me, it's critical people know they can own original artwork," said Schuh.
You may think to yourself that if this stuff is really that valuable, what is it doing outside exposed to the storms that have rolled through the metro and are still forecast to head our way?
The answer is simple.
When art is your livelihood, the best way to earn a buck is to get your work to out to the people.
Every once in a while that requires braving the elements.
"I've been through storms that have wiped a lot of people out and ones that have closed shows down," said Vance.
The Des Moines Arts Festival provides zip up tents and 600 pound barrels to hold them in place, but Schuh and Vance go above and beyond to protect what's theirs.
"We have over 500 (additional) pounds in this tent just holding the legs down," said Schuh.
"You almost have to build a tent like you build a house. i tie everything down to the top and bottom," said Vance.
A sturdy tent and the right fasteners not only protects the artists and their work, but has even led to some extra business opportunities.
"I invite people into my tent to get them out of the rain and they say I wouldn't have stopped here but like my work," Vance told Channel 13 News.
You can still catch the Des Moines Arts Festival Saturday until 10 PM and Sunday from 11 AM to 5 PM.
The festival is at Western Gateway Park and is free to the public.