This is an archived article and the information in the article may be outdated. Please look at the time stamp on the story to see when it was last updated.
Officials say the man that allegedly abducted two girls from Dayton Monday is dead of an apparent suicide, but one of the girls is still missing.
Law enforcement says 42-year-old Michael Klunder lured a 12-year-old girl and 15-year-old Kathlynn Shepard into his truck Monday just before 4:00 p.m. Monday by offering them jobs mowing lawn.
Klunder, who lives and works in the Dayton area, took the girls to a hog farm in the area of 105 St. and I Ave., just southeast of Dayton. Around 4:30 p.m., the 12-year-old girl was able to escape and run to a nearby farmhouse for help. The owner of the farm house says the girl was barefoot, covered in cuts, and crying.
Officials say around 8:00 p.m. Monday they found Michael Klunder's body. Police sources tell Channel 13 he committed suicide by hanging himself.
According to Iowa's Sex Offender Registry, Michael Klunder was convicted of third degree kidnapping in 1992, when he was 20-years-old.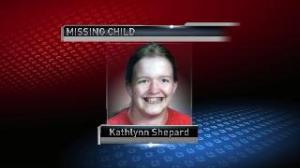 As of a 4:00 p.m. news conference by the DCI Tuesday, Kathlynn Shepard had not been found. She was last seen wearing a gray sweatshirt, blue jeans and a Minnesota Vikings hat.  She has blonde hair, blue eyes and stands 5'6″ tall and weighs 160 pounds.
Officials and volunteers are searching a 75 to 100 square mile area in Webster, Boone, and Hamilton counties. Airplanes and K-9s are also assisting in the search.
DCI officials say they are hopeful Kathlynn will be found alive.
Additional volunteers are not needed at this time but may be needed in the future. If you would like to help, contact Webster County Emergency Management at 515-573-1410.