This is an archived article and the information in the article may be outdated. Please look at the time stamp on the story to see when it was last updated.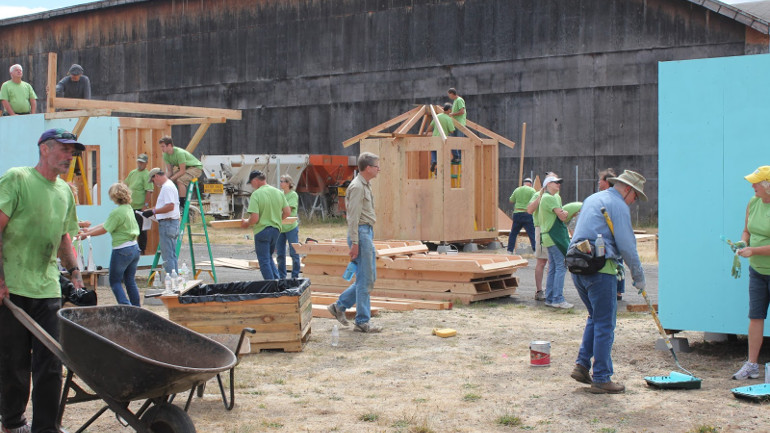 EUGENE, Oregon — Imagine losing your job and the place you call home. You can't get into a shelter and end up on the streets. Soon, you barely remember the person you used to be.
Urban planner Andrew Heben has a better idea.
Heben is the force behind a pioneering "homeless hut village" in Eugene, Oregon, that offers residents more than just a roof and four walls. Opportunity Village Eugene has brought autonomy and a sense of community to 57 people since opening in fall 2013.
Homeless huts have been popping up across the country for years in clusters of four or five. Heben's idea goes a step further, bringing more huts into a single location and forming a neighborhood.
Hailed as a revolutionary approach to dealing with homelessness, Opportunity Village Eugene is a one-acre lot with 25 tiny homes ranging from 60 to 75 square feet. At the center is a 30-foot yurt that covers a communal kitchen and shared restrooms.
"This is a positive dynamic, with people who are in the same situation coming together to live collectively and improve their individual circumstances," Heben said.
Opportunity Village was born out of the Occupy movement in 2011, when protest camps across the country became refuges for the homeless. When Eugene's protest camp shut down, people were forcibly removed and left without shelter.
The city of Eugene donated an acre of land, rent-free, to host the displaced. Building costs of roughly $100,000 came from donors, with another $100,000 in donated materials. Aside from providing the land, there's been no government involvement.
The physical design of the community is not the only key to its success. Opportunity Village is governed by residents, eliminating the need for staff, Heben says. The residents have established community rules, and people who break them are asked to leave. This keeps the village safe and gives tenants the ability make decisions and exercise control over their situation.
A program on-site connects residents with skill-based jobs, and an education program is in the works. Heben's model could offer hope for many of the 600,000 people on the streets (PDF) of the U.S. on any given night. His idea is spreading, with hut communities now open in Olympia, Washington, and Ithaca, New York. Others are in the works in Madison, Wisconsin, and Austin, Texas.
Heben is working on his next project for residents ready to transition to more permanent housing. He has a physical and structural design of a community, and the project is in the fundraising stage on Kickstarter.