This is an archived article and the information in the article may be outdated. Please look at the time stamp on the story to see when it was last updated.
Hi gang!
So, I've been gone for a few weeks enjoying the Florida sun. Don't hate me – at least it's going to be close to 60 degrees here in Iowa this week!
Would it make you feel better if I told you that it was actually somewhat chilly during a few days during the first week we were there?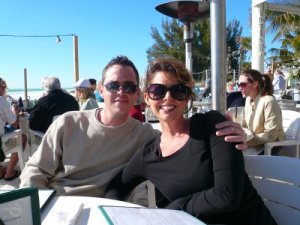 Here we are "bundled up" for lunch on the beach.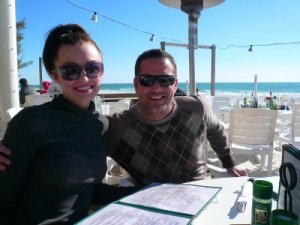 Our friends Katie & Jeff said they weren't complaining, and we weren't either!
I mean, how could you with this view? And yes, that's Michael sitting on the bench.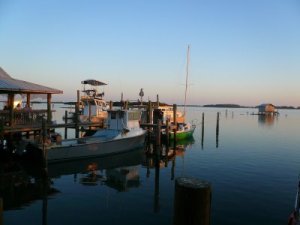 If you're not beach side, you're poolside or dockside. This is the view from a nearby restaurant/fish market we visited. Ahhhhhhh. There is something so soothing about the water.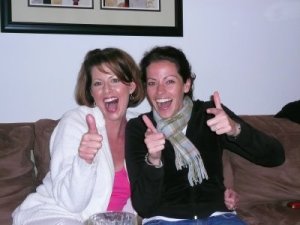 And, a trip is made better when you can catch up with old friends. I won't get into the details of what's happening with me and Kerry Kavanaugh in this picture, but we just won a hand of cards.
And Kerry has big news. She's engaged! This is her fiance' Jason. Do you like the shirt Michael bought him? We couldn't resist.
This trip is less about sightseeing and more about relaxing, so I always do a ton of reading. In addition to catching up on celebrity news via
People
and
Us Weekly,
I polished off one book and I'm close to finishing another. The first was
The Appeal
by John
Grisham
. It's a classic legal drama from this prolific author, and a fast read. I highly recommend it – especially because it has something of a surprise ending. I'm close to finishing a
mammoth
novel my mom gave me for Christmas that I just couldn't dive into until we started our vacation. It's
The Hour I First Believed
by Wally Lamb. It's nearly 800 pages long and it's dark, but incredible. If you've read
I Know This Much Is True
or
She's Come Undone
(both by Lamb) then you'll love this book.
Exciting news for those of you who are addicted to
facebook
. . . both Sonya
Heitshusen
and Keith Murphy have finally given in and joined the club!
Finally, Michael and I received some very sad news on the final day of our trip. Our friend and neighbor Bob
Mickle
passed away. Bob was an amazing man and a dedicated public servant and activist and he will be dearly missed by many. If you missed the lovely story Elias Johnson did on Bob, you can find it on our home page in the video player. It's entitled "Longtime Activist Dies." I admired many things about Bob, but two characteristics stand out. His knowledge and his decency. You could get in spirited discussions with Bob on just about any topic, but he never talked down to you or acted nasty if you happened to disagree. That's the same demeanor he took with him to the countless public meetings he attended over the years, and it's rare these days. And boy did Bob know a lot about a lot of different things. He once dictated hours of information for Michael about all sorts of city issues and boards and commissions. Michael actually listened to it in bed some nights. We fondly referred to those tapes as "Bob
Mickle's
Greatest Hits."
I'll leave you with a quote from Bob that I found on our neighborhood website, I think it sums him up and gives us all inspiration about how to live our lives. "The most important lesson I've learned in life is that you must live up to your potential, always strive for excellence. And the second most important lesson is that you must give back and give generously."
Have a great rest of the week.
EEK