This is an archived article and the information in the article may be outdated. Please look at the time stamp on the story to see when it was last updated.
Happy Monday, gang!
Can you believe the big fun happening in downtown Des Moines these days? Back-to-back fantastic events like the Arts Festival and the inaugural 80/35 Music Festival prove that it's no longer "Dead Moines!"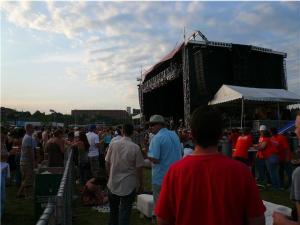 By now you know that I'm not the most accomplished photographer, but here are a few of my pics from Saturday's event in Western Gateway Park. If you want to see some really awesome photos by people who know what they're doing, check out
www.dmjuice.com
.
Meet our friends Chanda and Dave … so cute and so fun! Dave kept saying over and over, "I can't believe this is Des Moines! This is awesome!" By the way, Dave is a producer for ESPN's fantastic show "Outside the Lines." He's lived and traveled all over the place so it's pretty neat to hear him make comments like that.
You know these two … Shannon & Dan thought the event was cool, too!
Our friend and neighbor, Tony Lemmo with Michael. Tony owns two yummy places you should visit if you like Italian food. Frank's Pizza in the Drake Neighborhood, and Cafe di Scala in Sherman Hill. The man can cook, and he thought the festival was great for his hometown.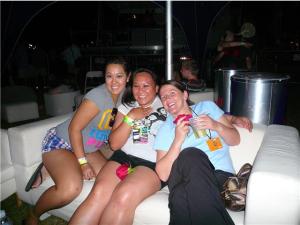 Who are these gals?!? No idea, but they were having a blast in the Red Bull tent so I took their picture. Thanks, ladies!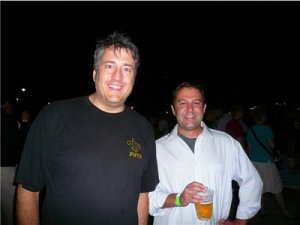 Lubbers and my buddy Jon Cahill. For the record, this was taken
after
Jon's shift.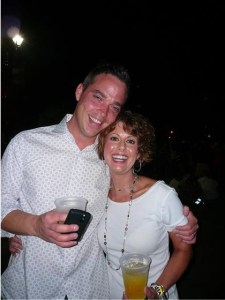 What a blast! We love Des Moines!!!
In other news … Murph keeps loaning me books. First it was "Rules for Aging." Then "The Last Lecture." Now he's given me "The Kite Runner." Should I be concerned that two out of three could be categorized as self-help reads? Hmmmmmm. Oh well, I am well aware that I can use all the help and advice anyone is willing to offer me, on many fronts. I still highly recommend the first book, definitely preferred watching Randy Pausch's lecture via YouTube over the somewhat preachy book, and have yet to dig into the most recent loaner – but I'm expecting great things since the movie was outstanding.
Finally, I don't know about you but I can't get enough of Shawn Johnson and Lolo Jones. These women amaze me every time I watch them compete. I love that intense look that crosses Shawn's face when she takes off running down the mat toward the vault, or preps for a flip on the beam. I'm usually holding my breath during her routines because what she does looks impossible and death-defying. And when Lolo crosses the finish line pumping her fists and jumping for joy, you can't help but celebrate with her. Her attitude and joy are infectious and beautiful. So, I was tickled to open this month's Fitness magazine and find both incredible Iowans profiled in the section devoted to female Olympians. I'm hoping this link works – I had trouble finding the ladies in the online version. If you click this and see swimmer Natalie Coughlin, you are in the right place – just click through the slide show and you'll see our home-grown elite athletes.
That's all for now … have a great week!