This is an archived article and the information in the article may be outdated. Please look at the time stamp on the story to see when it was last updated.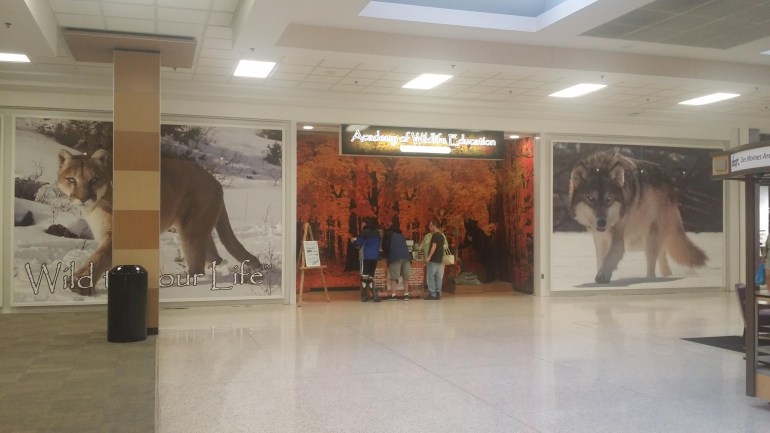 DES MOINES, Iowa — On Saturday, the 31 animals that lived at the Academy of Wildlife Education inside Merle Hay Mall were seized by the City of Des Moines without appeal from their former owner, Ron DeArmond.
Some temporarily remain in town, spread out between the Blank Park Zoo and Animal Rescue League. The larger animals like the black bears and exotic cats now have a new home in Colorado.
If wild animals were meant to roam free, they certainly weren't doing it inside small cages in a shopping mall.
The consequences of years indoors according to Pat Craig, the executive director of the Wild Animal Sanctuary in Colorado is noticeable in the build of the animals.
"They were typical for animals confined in typical captivity. They were well fed and healthy but were missing a total lack of muscle tone," said Craig.
The Wild Animal Sanctuary in Colorado is the new home of 18 of the animals once kept at Merle Hay Mall including black bears, foxes, and nearly a dozen exotic cats.
After a few weeks of adapting to their new surroundings, the animals will be released into outdoor habitats ranging from 5 to 25 acres in size in the northeast Colorado town of Keenesburg.
Each species is kept together.
"They eventually get to a point where they're living naturally in a big open space with others. Wolves will be in wolf packs," Craig told Channel 13 News.
If you happen to make your way out west, the animals will be on display visible from a mile long cat walk fifty feet above the animal habitats.
Craig says the catwalk allows for observation with less stress on the animals.
"When people are at the ground level like they are at the zoo, animals pace and are very nervous where as an elevated walkway, they don't consider that a threat," said Craig.
Craig hopes after years of pacing in small cages under artificial light, a new environment leads to happiness for the sanctuary's newest residents.
The animal sanctuary in Colorado says it was originally contacted about the animals at Merle Hay Mall a year ago by concerned citizens.
Talks with the mall and Des Moines Police about moving them there started last month.
For more information on the Wild Animal Sanctuary in Colorado, visit their website at the link below.
http://www.wildanimalsanctuary.org/