This is an archived article and the information in the article may be outdated. Please look at the time stamp on the story to see when it was last updated.
Road conditions are going down-hill right now. Travel is not recommended in most of northwest Iowa tonight. Civil emergency messages are clear about keeping people off the roads.
ABSOLUTELY NO TRAVEL IN SIOUX COUNTY TONIGHT. THE IOWA DEPARTMENT OF
TRANSPORTATION HAVE PULLED ALL REMAINING PLOWS AS OF 5 PM FOR THE
REST OF TONIGHT. ALL RURAL ROADS ARE OR SOON WILL BE IMPASSIBLE.
CITY STREETS ARE ALSO IMPASSIBLE. VISIBILITY IS DOWN TO ZERO IN
RURAL AREAS AND LITTLE IMPROVEMENT IN CONDITIONS IS EXPECTED
OVERNIGHT. RESCUE OF ANY STRANDED INDIVIDUALS TONIGHT MAY BE
IMPOSSIBLE. IF YOU DO BECOME STRANDED…STAY WITH YOUR VEHICLE.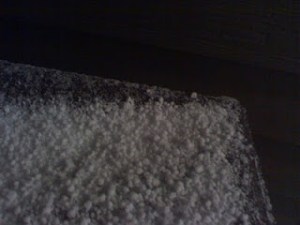 The snow pellets that are falling right now over much of the metro look like the stuffing that falls out of a beanbag chair. This is sometimes referred to as graupel. It occurs when warm air is wrapping around the snow storm and colliding with the extremely cold air on the other side of the system.
Stay home if you can tonight. Dangerous road conditions will continue through the early morning hours.