This is an archived article and the information in the article may be outdated. Please look at the time stamp on the story to see when it was last updated.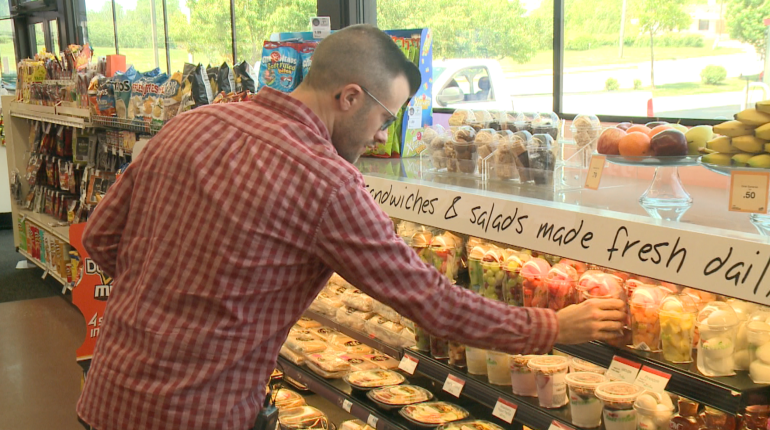 DES MOINES, Iowa – A Metro man is setting out to prove you can still be healthy, even if you live your life constantly on-the-go.
Frank Beard is a Des Moines resident who travels weekly for work. He says he used to weigh 80 pounds heavier, until he changed his diet and focused on healthy foods. Since then, he's become a health-nut, and wants to show others how easy it can be to incorporate healthy food into your daily life – no matter how crazy that may be.
That's where "30 Days of Gas Station Food" comes into play. It's an Instagram experiment Beard has started to prove he can still eat healthy – even if he only gets his food from gas stations for 30 days in a row.
"Gas stations can be really difficult, in fact. It's easy around here, but some states just don't have any good gas stations," he said. "So, I thought, 'That's what I'll do, for 30 days. I'll eat food only from gas stations, and I'll track everything on MyFitnessPal to show that I'm still healthy."
Two weeks in: He says he's proving his point. He's even lost three pounds in the process.
"You always hear the same story, which is, 'I was losing weight, but then I had to eat out a lot because of work, or because my family, and put on 20 pounds.' So when, I think when people see me eating at gas stations – which are far more difficult than a restaurant – and they see that I'm not only staying at my weight, but I'm actually losing a few pounds, it's encouraging for them, because it gives them hope that this is not an excuse for their own issues," he said.
Beard's experiment is gaining plenty of positive feedback from the community; Sunday, even Hy-Vee decided it wanted to know more.