This is an archived article and the information in the article may be outdated. Please look at the time stamp on the story to see when it was last updated.
A Granger man we introduced to you two years ago isn't giving up in his fight against an incurable disease.  Keith Miner suffers from ALS or Lou Gehrig's Disease. We first brought you his story in February of 2012 when Miner started the organization "Racers Against ALS." He's raised $100,000 with all the proceeds helping those with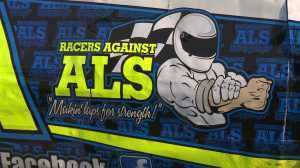 the disease, but now Miner is the one in need.
"The last six months has been pretty bad, it`s affected my arms, my hands they`re not working that good anymore," says Miner.
Miner's only hope now rests across an ocean with a promising treatment only available in China.
He hopes it could give him more time to spend with his two little boys.
"Try something now and don`t do anything and within a year and a half, two years I might die," says Miner.
Ever since his diagnosis Miner has focused on others fighting the disease, now he is the one in need of help.
"He`s a fighter, he`s going to fight for people he cares about, he`s going to fight for himself," says Miner's friend Casey Carlson.
Carlson started a fundraiser on Miner's behalf. The money will help pay for the flight to China and the potentially lifesaving treatment.
"My prayers have always been that Keith is the miracle, he`s the one that beats it, he`s the one that figures it out, and I still believe that if there is someone who is going to do, it`s going to be Keith Miner because of who he is," says Carlson.
Miners taken a backseat while helping others through his foundation, "Racers Against ALS" but now it's his turn to take the wheel.
"It`s try something now or give up and I don`t want to give up," says Miner.
Miner needs $35,000 to go to China, for more information and to donate, click here.