This is an archived article and the information in the article may be outdated. Please look at the time stamp on the story to see when it was last updated.
A rare genetic disorder should have stopped Dave Mathis decades ago but instead, he`s sprinting through life and surprising a lot of people.
Dave has Noonan syndrome, a disorder that prevents normal development in various parts of the body.
Along with bones that are like cartilage, for Dave it also means having a club foot, and one leg that`s shorter than the other.
"I didn`t sit up until I was five," Dave recalls.
He didn`t walk until he was seven which makes what he`s doing with personal trainer Joe Hogan incredible.
Joe had never met someone like Dave and had no idea what he could and couldn`t do.
"There`s no research on Noonan syndrome and exercise," Joe expalins. "So you kinda gotta throw the book out with that and play it by feel. We did just that."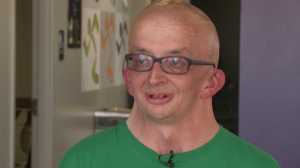 Dave pushed through boxing and weight training but he had a different dream, "I always thought it would be neat to run a race but because of my legs and stuff, I'm not able."
It was Dr. Richard Newkirk`s idea to partner up. During the past seven years he`s been the one doing the pushing.
"Dave is one of those people who comes along in your life – first of all, makes you count your blessings – not so much because you don`t have disabilities, but because you`re seeing somebody who`s attitude is just incredible," Dr. Newick says.
Joe came up with the idea to surprise Dr. Newick by running a 5k. "At that point neither one of us knew if we were going to be able to do it or not," Joe recalls.
But they were going to try.
They started out slow. At first Dave could only go about twenty seconds at a time.
"It was a real challenge. When Joe presented the idea I wasn`t sure if I could with my stamina," Dave said. "He broke it down into steps."
Dave would run twice a week, then three times and eventually five.
Race Day
"We went to sign up for the 5K race and instead of me registering," Dr. Newick recalled, "he`s already registered… And I'm like, what?! We`ve got leg braces, shoe lift, all of these things working against us.
"But he did it, and I watched him… Incredibly motivational."
Dave says that when he saved some energy for a sprint finish.
"It was a pretty big deal!" Joe says of the triumph.
It should really come as no surprise – big deals are a part of Dave's life. Maybe he didn`t sit up until he was five or walk until he was seven but now, at age 37, Dave is running.
"You can do any kind of goal you want even if it`s just baby steps."
"He`s a true inspiration to everybody… I'm blessed to be a part of it," Joe says.
Dr. Newkirk and a relay team will be pushing Dave this Sunday at the Des Moines Marathon.
Dave's goal is to do two 5K races a year on his own two feet.