Channel 13 News is now providing flash briefings via Amazon Alexa.  Once you've set this up, you'll be able to ask Alexa for a local forecast anytime you need it!  Here's how to set it up..
The first thing to do is install the Alexa app on your mobile device.  To install on your iPhone or iPad just go to the App Store and search for "Amazon Alexa".  For Android devices, search for "Amazon Alexa" in Google Play.  Once the app is installed, you'll have to log in to your Amazon account in the app.  Now find the settings section, on an iPad it looks like this…
1. Go to "Flash Briefing".

2. Click or tap "Get more Flash Briefing content".

3. Search for "WHO".

4. Select the entry with the Channel 13 logo.  It should be at the top of the list.
5. Using the switches on the right side, select the items you want to hear during the Flash Briefing.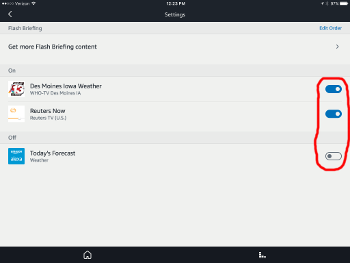 That's it!  Now when you ask for a Flash Briefing you'll hear our local forecast along with the rest of the items you selected.
Enjoy!